This post brought to you by Bright House Networks. All opinions are 100% mine.
Bright House TV is an incredibly easy way to Make Any Room a TV Room! Bright House TV (BHTV) is a free website and app that lets you watch live HD TV on your computer, most Android devices plus iPad and iPhone from anywhere in your house! You can watch networks like USA, AMC, Discovery, Lifetime, Nick, Disney Channel, SyFy, HGTV, Travel Channel and premium channels like Starz, HBO, Showtime and Cinemax. Right now there are around 250 channels available on BHTV there will be more channels being added month by month. You can even use the guide to set shows to be saved to your Bright House Networks DVR!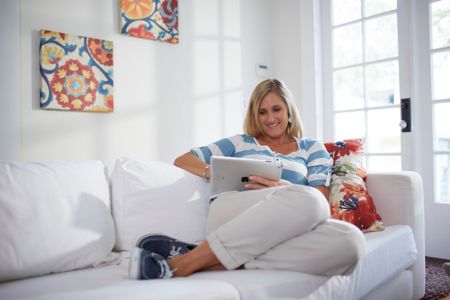 BHTV works within the range of your home wireless network so you can access in different rooms. For instance, last month I used BHTV on my Android smart phone in my backyard patio sitting by the pool. It was within my home's wireless range and I was able to watch my favorite soap opera in HD while enjoying gorgeous Florida weather! Bright House TV is a free service for all Bright House Networks video customers, just go set up a free MyServices account to get access to BHTV. Then go to https://bhtv.brighthouse.com to watch from a computer or download the app available from Google Play or the Apple App Store. For even more info you should check out BHTV's FAQ section and you can also contact customer support.